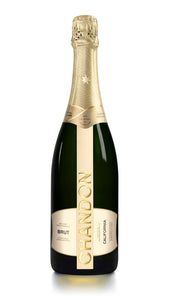 Chandon Brut Classic, California (750ml)
Regular price
Sale price
$19.99
---
Winemaker Notes
This wine offers the balance and elegance that has become Chandon's hallmark style. When you taste Brut Classic, look for nutty flavors with hints of brioche that build to a refreshingly dry finish. The wine delivers complex apple and pear characteristics accented by citrus spice over notes of almond and caramel in the bouquet.
Chandon California Brut is great with anything salty, creamy or nutty. It's particularly fond of shellfish, crab, oysters, fried chicken, and Caesar salad.
Critical Acclaim
Decanter
Elegant and vibrant aromas of crisp apples, zesty yellow citrus and touches of creamy notes. Very smooth and soft on the palate, harmonious, with fine bubbles. Blend: 70% Chardonnay, 30% Pinot Noir.
The Somm Journal
The luxe packaging may be brand-new, but when it comes to what's inside, Domaine Chandon knows full well not to fix what ain't broke: The multiregional, traditionalmethod blend of 73% Chardonnay, 26% Pinot Noir, and 1% Pinot Meunier is a sure bet for everyday bubbly. Scents of ripe Anjou pear, apple butter, and sweet florals attend a palate that starts out crisp as lace, then quickly spreads out on the mid-palate, juicy to the finish with apricot nectar and grapefruit rin
Tasting Panel
Ripe, succulent nose; smooth, lush, and rounded with a dense, fruity style. Rich, elegant, and long with depth and considerable finesse.
Wilfred Wong of Wine.com
COMMENTARY: I tasted and retailed the first release of the Chandon Brut in December 1976. I had visited Domaine Chandon's offices in Yountville before the winery existed. I think the winery was called M&H Company, but I'll have to refer to my earliest notebooks if my notes still exist. Domaine Chandon Yountville marked a new direction for the world of California sparkling wines, and the industry has never looked back. The Chandon Brut is steady as it has always been. TASTING NOTES: This wine is subtle, fresh, almost complex, and perfect. Its aromas and flavors of dried herbs, tart fruit, and chalk would be a beautiful way to start dinner. Pair it with a raw seafood bar or just enjoy it by itself. (Tasted: July 18, 2020, San Francisco, CA)
Wine Enthusiast
Toasty, buttery aromas and a rich palate of peaches and vanilla give this forward wine plenty to savor. A creamy mouthfeel goes nicely with the generous flavors.
James Suckling
Red apple, lemon rind and some brioche character. Smooth bubbles and pleasant, fresh acidity helps balance the generosity here, giving a vibrant feel. Not complex, but delightful. A blend of chardonnay and pinot noir. Bottled in March 2021. Drink now.
Wine Spectator
Supple and sleek, with generous apple, lemon and yeast roll accents that linger on the soft finish. Drink now.